NEWS PAGE
Moorfield AFC August 2013 Widnes Cup Final Squad
Moorfield AFC 1st team squad for the Final.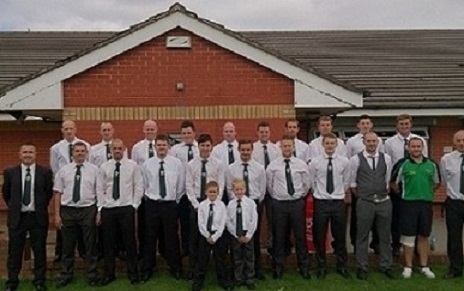 FA Standard Charter Renewal
Moorfield AFC Have there FA Standard Charter Renewed for 2012-13.
Next Anual Check to be completed by 31-3-2014
August 2011
Moorfield AFC Welcolme Lea Transport Ltd as their new sponsor for the new season for 2011/12.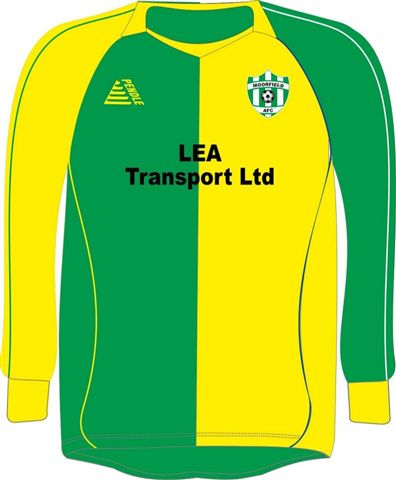 October 11th 2009
HALTON Ladies have joined Moorfield Sports and Social club and played there first home game at Moorfield on 11-10-09
Managed here by Tony Baker.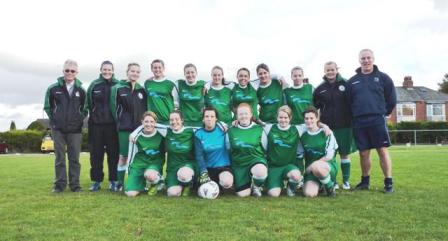 Top Row left to right:

Frank Gaskell (chairman) Lorna Buck, Sophie Baker, Danielle Davis, Fiona Raeburn, Lauren Houghton
Danielle Waring, Jess Briers (Capt), Christine Keane, Sarah Charnock, Tony Baker

Bottom row left to right

Becky Naylor, Danielle Rooney, Katy Jones, Nicola Gaskell, Megan Pickering, Catherine McGann
Not pictured - Kim Blunden, Lauren Johnston, Rachael Crompton

October 28th 2007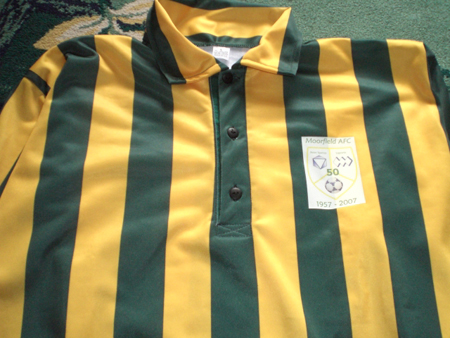 Moorfield AFC start their 50 year celebrations with a new kit to mark the celebrations. All the players requested a new kit to be designed in a style like the original shirt design from 1957.
February 17th 2007

Tragic News February 17 2007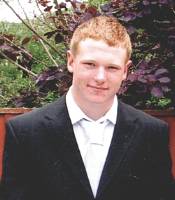 Tom Lunt

All of the players and committee at Moorfield AFC are saddened by the loss of one of its players in a tragic accident which occured on Friday night 16-2-07, whilst he was out celebrating his 18th Birthday. Tom Lunt unfortuneately passed away on Saturday morning and will be sadly missed. All of the club will need to pull together in these hard times and im sure all would join me in offering the sections sincere condolences to Pat and the rest of the Lunt Family. Tom was a fine prospect not only as a footballer but also as a member of Moorfield CC section were he excelled in Batting and Bowling. Tom was an excellent sportsman and such a quite lad that every one who new him are deeply saddened by his sudden loss.

Good By and God Bless Tom you will always be remembered!!!
February 17th 2007

News January 2007
January 2007
Moorfield AFC are presented with a shirt from the first season at the present ground by Jack Jones who played in the first season. The shirt has now been framed and is hanging up in the club as a tribute to Jack and all the players from those early days
Pictures below taken by Tony Ruane.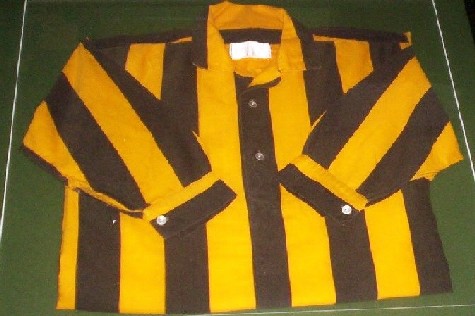 NEWS FLASH 22-8-06
Moorfield AFC 1st team picture there
recent semi-Final win against Halebank.
Names will appear here.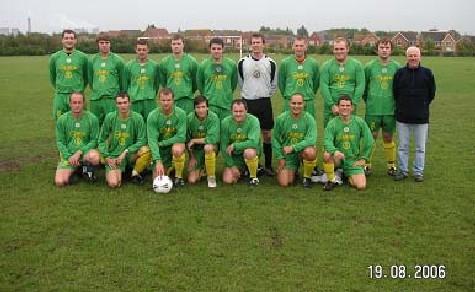 NEWS FLASH 17-8-06

Congratulations to Ex - Moorfield AFC Player now Playing for
Huddersfield Town football Club scores the 50.000 goal for the Football League.
Gary scored the 50.000 league in the second game of the season against Rotherham United it was Garys secong goal of the season. Gary has played in 120 Football League games now scoring an impressive 39 goals to date. Gary previous clubs in the football league included Hull, Lincoln and Leyton Orient. Before he signed as a professional he played at Northwich Victoria who sold him to Leyton for £50,000 while he was with Leyton he also played for Greys Athletic and Dagenham & Redbridge. Once again Congratulations to Gary from all at Moorfield for his recent record.

NEWS FLASH Gary Woods Scores

Gary Wood scores a rare goal for Moorfield on Saturday 29-7-06
in their 4 - 2 win.
Scorers were G Wood, L Brophy, S Savage and C Hansen.

Gossips are spreading fast the news that Gary has asked to renegotiate his contract with S Smith to a include bonuses for goals scored.
Unnamed players on saturday said it was about time Gary scored because he never gets near on a night out with the lads.

NEWS FLASH FROM ELIOTS IRELAND TRIP


Elliot Eyo former Nigerian U21 footballer recently took up horse racing It hasnít taken the Moorfield legend long to make his mark in the sport. Eyo won the recent Dublin International. Eyo later rode his horse into Dublin City centre. Here is a photo of the champion Jockey looking A little worse for wear in one of dublins finest boozeries. Eyo is the first mixed race jockey to have won the Title.

NEWS FLASH FROM ELIOTS IRELAND TRIP

WILSON HUNG LIKE A HORSE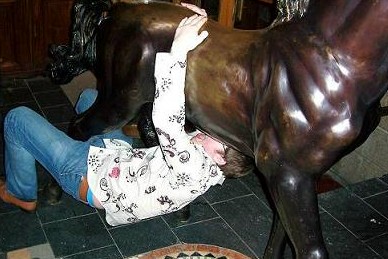 Marc Wilson can be seen hear clearly hung from a horse
Todays Poll?
Is Marc Wilson hung like a horse?
Current Voting results
YES 1%
NO 99%
Mark requests further votes is there anyone out there who believes him

World Cup Fever Hits Moorfield

1.Marc Wilson cheers on his native China at there recent friendly match in Beijing.
World Cup Fever Hits Moorfield

2. Gary Wood has taken agreed a six figure deal to be a pundit on ITVís coverage of the World Cup in Germany.
World Cup Fever Hits Moorfield

3. Moorfield talisman Marv is in talks with Trinidad and Tobago about being called up to play in their group match against England.
World Cup Fever Hits Moorfield

4. Elliot Eyo has retired from International football at the tender age of just 24. The lagos born striker is said to have been annoyed at the Super Eagles not qualifying to the World Cup Finals to be held in Germany
World Cup Fever Hits Moorfield

5.Liam Brophy has been called up to the USA World Cup squad.