Club History Page
The current club, Moorfield AFC, first played in 1998. The recent history of the club can be found here: History of Moorfield AFC: 1998 - present
All pictues and words below are taken from old works magazines donated for this web site by the late Trevor Harrison without whos help we could not have compiled all the history of the club for this page.
History of Peter Spence Football Team: 1921 - 1967
Moorfield football club started out as a works team Known as Peter Spence as did many other teams at the time in Widnes.
In the beginning
Peter Spence Ltd open a factory in Widnes situated in Moorfield road in 1919 from the very start it encouraged all its workers to participate in various sporting activities in the town as a means of recreation. Included at that time was Football,Cricket,Tennis,Table Tennis and Bowls. Records have been found that show Peter Spence began playing in season 1921/22 although they may have started the year before but records unsure at this present time. At this time the earliest recorded picture of a Peter Spence football team is a picture from 1923 see below.
See picture below from 1923.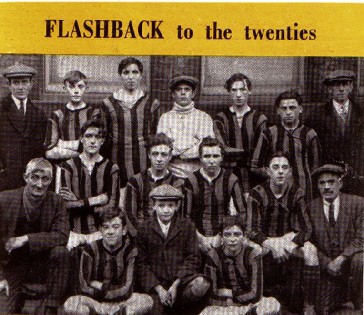 P.S & S Soccer Team 1923/4 season
Back Row: J Jackson, J Johnson, B Curran,J Wycherley, J Gregory, J Jones, T Douglas.
Middle Row: J Clayton, J Moss, T Clare, H Jones, J Dooley (Snr).
Front Row: J Moss (Snr), J Dooley, R Clayton, A Webb.
It was decided around this time that Peter Spence Ltd would build for its workers there own works recreation club were they could further encourage its workers to take part in its activities.

The building of the club was started early in 1925 and was offically opened on May 2nd 1925.
See picture below May 2nd 1925.
May 2nd 1925 marked the opening of the first P.S,S Recreation Club Pavilion. We are indebted to Frank Dainteth (Fitting Shop) and Jack Moseley (Laboratory) for this photograph shown here. Frank was club secretary at the time and posseed a copy of the printed programme issued for the occasion. From this we learned that the opening ceremony was performed by a Mr Howard Spence and Mr I.P.Llewellyn. The Photograph will be of particular interested to older readers. We Deeply regret that most of the group will have past away now, however Frank Dainteth, Jack Moseley and Jim Mainwaring are shown here. Jim was formally employed in the wages department, is now enjoying his retirement.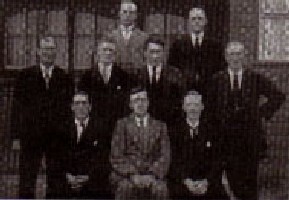 Pictured above are from Left to Right
(back row): J.Moseley, T.K.Stevenson
(centre): T. Jackson, A.Pollit, R.Vicers, J.Blair
(front): F. Dainteth, A.Emery, J.Mainwaring
Pictured below from 1927.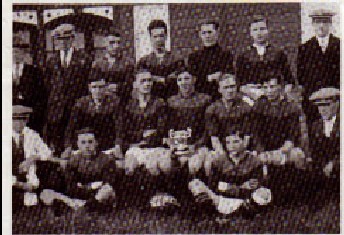 Back row: J McCafferty, C Harrison, R Vickers, H Williams, O Walker, A Glover, J Clayton.
Centre row: E Banks, E Wilkinson, D Dainteth, B Curram, J White, D Rix, W Harrison.
Front row: H Jones, R Wild
1956.
Peter Spence football team was playing in the Widnes Alliance and having another successful season. At the end of 1956 Peter Spence Ltd decided to provide a new recreation ground and pavillion and it was decided to move to its present ground.
New Sports Field under Construction
For Football and cricket for Peter Spence Ltd.
Supporters of the Soccer and Cricket sections expressed sincere delight when it became known that the company had agreed to provide a new sports field large enough to cater for both sections. Work on preparing the land has been going on steadily during the last six months, and it is anticipated that the field will become avaiable to the soccer section in rediness for the 1957/8 season and to the cricket section from 1958 season.This is yet another instance of the continued interest and support which the company devotes to the Recreation club. We feel sure that this further expansion of recreational facilities will meet with enthusiastic support. The photograph shown here was taken duing the initial stages of the development.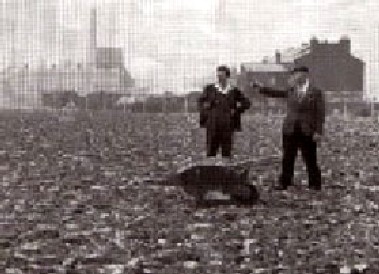 Pictured here are George Cuzons (Head Gardener) discusses with Stan Yeomans over some points concerning the progress of the land development.
Team Photo from 1956.
The Club has just completed anather enjoyable and successful season. The team, as in previous seasons competed in the Widnes Alliance, and were finally placed 2nd after beating Hale A.F.C, 2-1 in a play-off. The clubs major playing success was the winning of the Benevolent Cup which was gained by virture of a 3-2 win over Fairfield A.F.C. A Note on the clubs activities would not be complete without a word of praise for the commitee and the reserve players. Their efforts have been the foundation of the success achieved.
Pictured Below here are:
Back Row (L to R): H Renolds, E Bellard, F How, F Slavin, T Garrity, and V Whittall. Seated (L to R) E Jones, R Swain, H Whitfield, J Olohan and V Yearsley.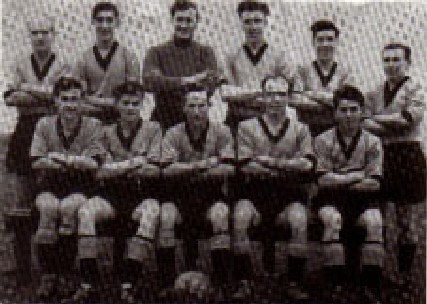 1957.
Archive pictures includes a team photo from 1957 season see below.
And a picture from 30 years before around about 1927 we think.
The success of our soccer team during the 1956/57 season in capturing the Widnes Alliance Trophy has revied memories of the good old days particularly to a few of our older members. These memories have prompted Harry Williams our CoMo Plant Manager to produce the photograph of the Peter Spence team which performed a simalar feat exactly 30 years ago. Incidentally, only Harry Williams and Jack Clayton(Laboratory) are still employed here at P.S.& S. Many readers here will however recognise the late Bob Vickers (whose son is now employed in our wharehouse). And pictured the Ted Banks (his widow Cissy is a member of our canteen staff). The Football pitch on which this team scored many ot its triumphs is now unrecognisable, it being the Site of the SC2 Plant now. In addition to winning the league championship our present team won the N.S.P.C.C Charity Cup. It is anticipated that the new sports groung in Moorfield Road will become available in time for the 1957-58 season
Pictured below from 1956/7 season.
Back Row: C Oliver (Secretary), S Thomson, (Committee),
T Garrity, R Stapleton, F Hose, R Swain, C Locke, D Oliver, J Howard (Committee). Front Row: E Oliver, J Olohan, H Renolds, J Freeman, J Eyres.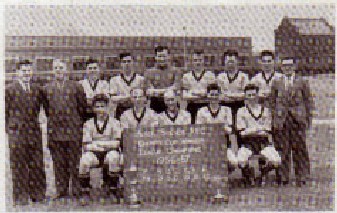 P.S.& S, Soccer team Sweeps the board 1957/58 season.
The season recently concluded must surely go down as the most successful in the history of the club.
Winners of Four cups, the team literally swept the honours board.
During the 1057/58 season they were lague champions, winners of the N.S.P.C.C Charity Cup, the Benevolent Cup and the Challenge Cup, Thus winning in one season all the trophies offered for competition by the Widnes and District Alliance League. Full marks must go to the players on the wonderful record, but we must not forget to mention that the enthusiastic support of the club officials and supporters contributed in no small measure to a wonderful season. To wind up the season a very successful social evening was held on the 8th of May 1958, at the Red Lion Hotel in Tarporley. Members of the party included players, their wives or girl friends.
Team Photo from 1957/58 season.
Showing three of the four cups awarded to the club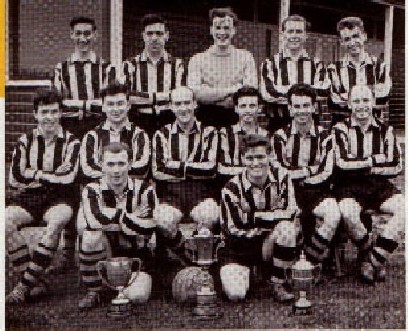 Pictured above from 1957/8 season.
Back Row: E Bellard, R Stapleton, F J Hose, F E McGlion, E G Jones.
Middle Row: T Garrity, D Oliver, H Reynolds, J Eyres, V Yearsley, J Cleaver.
Front Row: V Whittall, E Morrison.
Archive news of opening of new Sports Ground and Pavillion 9 June 1958
Monday evening 9th June was a memorable occasion in the histiory of the Recreation Club for it marked the official opening of the new sports ground and pavillion.
The ceremony took place in the pavillion at 6.15 p.m, when My F.S. Poole addressed the assembled guests and formally declared the opening of this spendid addition to the club facilities.
The ground provides excellent playing conditions for both Cricket and Football. There are two football pitches, and for the cricket section an artificial square has been constructed by the, En Tout Cus Co, Ltd, together with a practice wicket and practice nets. The ground is in excellent condition and the groundsman George Cuzens is to be congratulated. It will be recalled that when we first took over this land it was in a very neglected state. The pavillion, which has been constructed by our own Building Department is well equipped and should be off great encouragement o all sections using it. In addition to a large assembly room there are seperate dressing rooms for each team, equipped with hot and cold showers, and the kitchen offers adequate facilities for serving of light refresments during matches or social events.
After the opening ceremony a cricket match took place between P.S. & S. verses Widnes C.C. Extra XI. The Company had invited the Widnes Cricket Clun to send a team along for the evening, and in addition to the players we were pleased to see leading officials of the club amongst the invited guests.
These included MR H Ireland, President, Mr W Fazackerley, Chairman, Mr T Richards, Secretary Mr S Butterworth, Treasurer, and MR H Beswick, Captain of Widnes C.C. Ist XI, together with other committee members.
Incidentally, the match produced an exciting finnish, each team was allowed 70 minuits batting time and P.S.& S just won by 10 runs the scores being P.S.& S 77 for 7, Widnes Extra XI 67 for 8.
The 3 photographs below give some indication of the evenings enjoyment.
Picture below: Mr F S Poole making his speech to mark the official opening.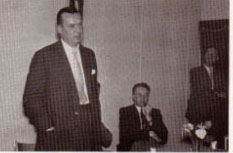 Picture below: Group photograph taken at opening ceremony. With Mr F S Poole are on the front row are officials of the Recreation Club as follows: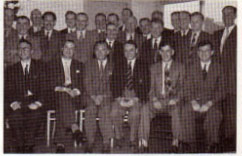 Pictured below:
Before the game - the spin of a coin watched by Bill Knowles (Widnes Extra XI Capt), John Bruce (P.S. & S Capt) and Mr F S Poole,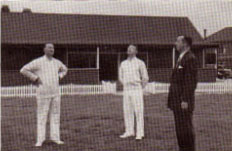 Further Archive pictures below of the club when it was when it was built.
front and Side views taken showing changing room entrance and front of pavillion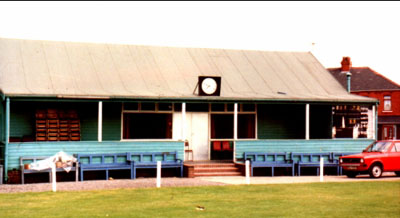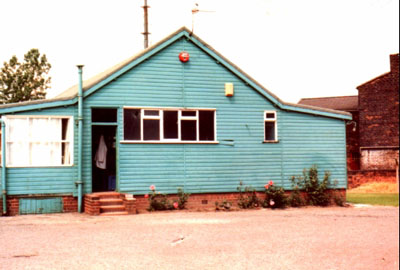 Archive picture 1958/59 season.
The 1958/9 season is likely to be another successful one. This year we have been able to operate two teams and the 2nd team in this, their first year, has made an encouraging start. Our Photograph below shows our 2nd team taken prior to a recent game. The first eleven are hoping to be in the honours again and up to the time of this press release have only lost one game.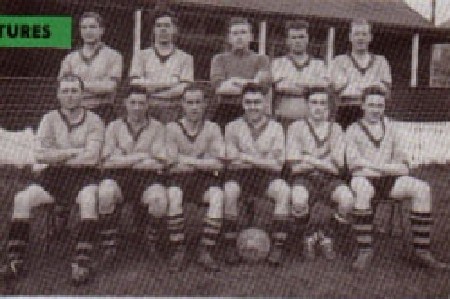 Picture above are the 2nd team from left to right;
Back Row: P Wright, R Stapleton, F Lidster, W Ryder, P Brown.
Front Row: J O'Roske, J Jones, J Headon, D White (Capt), R Hughes, D Millington.
This photograph below is of Fred Hose, the regular goalkeeper for our first team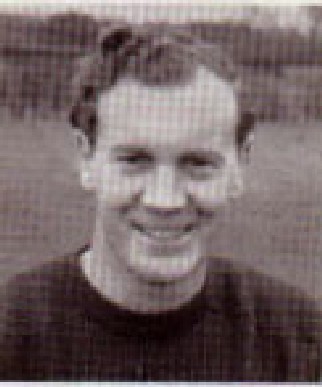 Summer 1959 Archive news.
The Ist team once again emerged as league champions, incidentally for the four time in the last five years, also retained for the third successive year the N.S.P.C.C.Charity Cup. For the first time we have been able to field a regular Reserve XI and, whilst one or two heavy defeats were experienced they gave a good account of themselves to finish halfway in the second division table. Perhaps their most outstanding achievement was the defeat inflicted on Hale, a first division side, on one of the earlier cup rounds. To Wind up the season a social evening was held in the sports pavillion attended by all the players and officials, a thoroughly enjoyable event which is hoped will be a forerunner for many more such nights.
Pictured below are the First XI.
Back Row; E Bellard, T Gillhooley, F Hose,B Cheshire, R Stapleton, D Oliver.
Front Row: V Yearsley, E Morrison, F McGloin, R Swain, J Cleaver.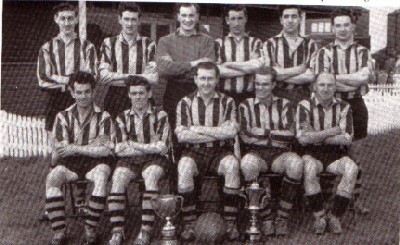 Archive News 1959/60 season.
The 1959/60 season was another successful season for our club. The first XI won the Widnes and District Benevolent Cup and were runners up in the Widnes Alliance League Championship. They were also runners up in the N.S.P.C.C. Cup. Officials were greatly pleased and encouraged by the performace of our 2nd eleven.
Pictued below is the P Spence Ist team 1959/60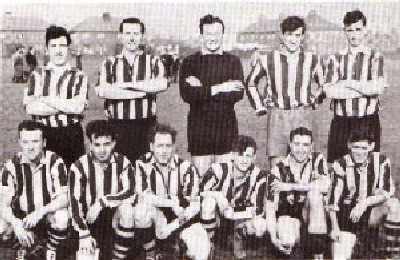 Back Row: T Garrity, F McGloin, F Hose, T Gillhooley, B Cheshire.
front Row: G Cedling, V Yearsley, W Richards, J McPartland, J Jones, E Morrison.
Archive News 1960/61 season.
Outstanding Successes of Peter Spence Football Teams
The first Eleven Sweeps The Board.
The season 1960/61 was the most successful we have ever enjoyed since the formation of the football section in the earley 1920s. Our first XI were successful in winning all the competitions sponsored by the Widnes and District Alliance. Their record makes remarkable reading.
Champions - Widnes and District Ist Division.
Winners of the N.S.P.C.C.Charity Cup.
Winners of the League Benevolent Cup.
Winners of the Widnes and District Alliance Medals Competition.
Next season it is hoped we will be playing in a higher grade of football. An application having been made to the Liverpool County Football Combination for our Ist team to compete in the Liverpool County second Division.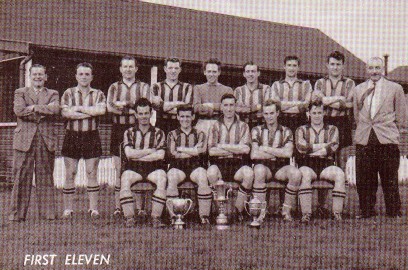 Pictured above from Left to right are:
Back Row: E W Lloyd (Chairman), G Codling, F E McGloin, V Wilson, H Bailey
G Lunt, T Gillhooley, S Forshaw, J Wilson (Coach).
Front Row: V Yearsley, E Morrison, B Cheshire (Capt), R Swain, F Lomax.
Second Eleven Win League Championship.
Our second XI also enjoyed a successful season in winning the Championship of the Widnes and District Alliance Second Division. To celebrate such a memorable season, a hot pot supper was held in the pavillion on Friday 28th April - amongst the guests were Mr G H Maddra (General Works Manager) And Mys Maddra.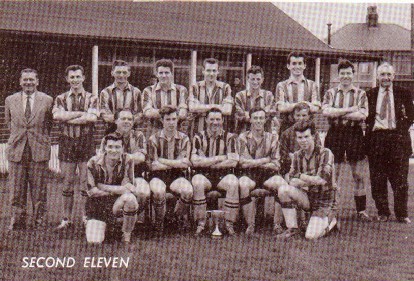 Pictured above from Left to right are:
Back Row: E W Lloyd (Chairman), N Leather, D Sey, F Hall, N Woodward, J McPartland, T Morris, T Garrity, J Wilson (Coach).
Front Row: D McFarlane, W Richards, S Evans, J Jones (Capt), R Hughes, P Swain, J Gittens.
Archive News 1961/62 season.
First Team now playing in the Liverpool County Combination 2nd Division.
2nd Team now playing in the Widnes Alliance 1st Division.
Pictured below is Brian Cheshire 1st team Captain 1961/62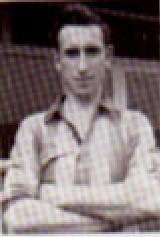 This season our first team are playing in a higher grade of football, they are now competing in the Liverpool County Combination. So far they have met with a fair measure of success having played 11 matches, 5 being won, 5 lost and 1 drawn. It is interesting to report yhat visiting officials gave high praise regarding the condition of our ground and pavillion available. On more than one occasion we have been informed that it is the best ground within both the 1st and 2nd divisions of the Liverpool County Combination. When we realise that the old established clubs like Earle, Forby, Maghull etc are included in the leagues we feel proud that the Peter Spence ground recieved such praise. We finished the season in 6th position which gives us great platform for next season. During the summer pre season training sessions were taken by Les Shannon a coach from Everton F.C
Our second XI are having a successful season in the Ist division of the Widnes Alliance League.
Pictured below is Jack Jones 2nd Team Captain 1961/62.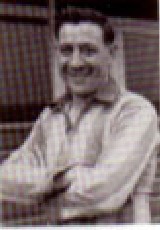 Further Archive News Items.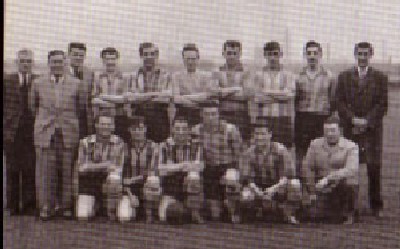 Pictured above is the Ist Eleven competing in a Liverool County game.
Standing - J Whitfield, F W Lloyd, F Hall, D MacFarlane, F Scott, H Bailey, S Forshaw, B Cheshire (Capt), E Bellard, T Gilloohley.
Kneeling - S Viggers, H Jones, J Jones, T Gibbons, E Morrison, L Morris.
Archive News 1962/63 season.
Peter Spence 2nd Team pictured below;
Team above Back row:J.Jones,E Bellard,B Cheshire (Capt), T Gillhooley,H Currier,F Hall,F Scott, L Morris,E W Lloyd (Chairman),J Whitfield, Front Row: D McFarlane,T Gibbon,B O'Connor.A Hitchmough,W Rushton.
Peter Spence 2nd Team enter the Warrington & District Football League this season 1963/64
Archive News Summer 1964.
THE MERSEY SOUND AT PETER SPENCE
Beatlemania and the mersey sound will be remembered as one of the main features of 1963. Some of the hysteria which goes with this sound was seen at Peter Spence Recreation ground on Sunday 19th January 1964, when a Mersey Beat XI played a Peter Spence XI in a charity football match in Aid of the Widnes Spastics Society.
The "Beat" stars left their guitars and drums at home, but still proved an attraction to their young followers who numbered about 600, and who spent a busy afternoon autograph hunting. An amusing commentary on the game was given by a couple of Liverpool comedians, who managed to keep the crowd entertained on a cold and damp afternoon.
The score of six goals to nil in favour of the Mersey Beat XI, was a blow to P.S.& S followers, but from the fans point of view everthing was "FAB" or should we sat "GEAR".
Pictured below some of the Mersey Beat celebritaries are introduced to the Spence team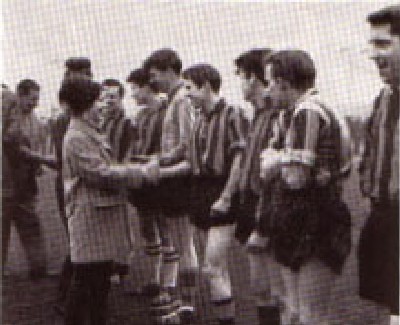 Pictured below the Peter Spence 1st XI photographed prior to the game.
Left to Right:- back row: J Cleary, J Gandy, B Lewis, A Lowe, A Mercer, K Rowles, (Referee, D White).
Front row: - R Patch, H Wilson, B O'Conner, A Summer, D Bromley.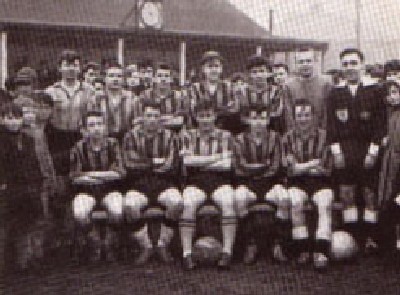 Pictued below are members of the First Aid and Safety Rescue Sections pictured with their guests at the annual dinner party.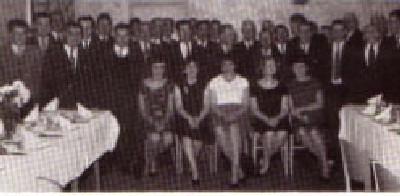 News of another good season 1963/64
The 1963/64 season was another best ever from a playing point of view, for the Peter Spence Ist XI. At the end of the season we finished third in the Liverpool County Combination Division Two. This is a very satifactory performance, particulary as the quality of play in this league is of such a high standard. Our group photograph below was taken at a recent game
Peter Spence !st XI pictured below.
Standing, F W Lloyd, J Jones, B Cheshire, F Stott, C Hensley, H Skedd, R George, S Forshaw, B Doran.
Seated, D MacFarlane, A Hitchmough, T Gibbens, B O'Conner, J Gibbons, K Roberts.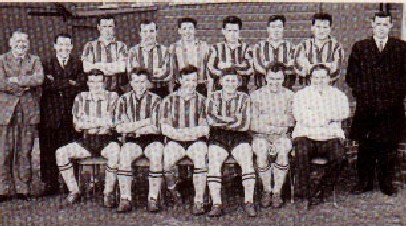 Below is a photograph taken at the annual hot pot supper held at the sports pavillion on Tuesday, 5th May 1964.
Pictured are Soccer section trophy winners 1963/64
Front Row: B Cheshire (Player of the year trophy - 1st Team), B O'Conner (Sportsmans trophy 1963/64), J Jones (Player of the year 2nd team), B Doran (emigrating to New Zealand), with a tankard presented to him by the soccer section.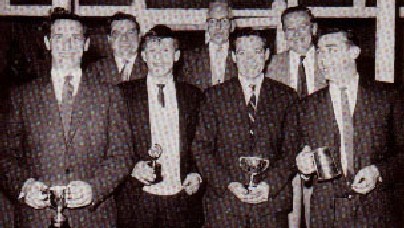 Archive News Summer 1965.
Picture below is First Team who completed another season in the Liverpool County Comp
Peter Spence 1st Team as folows.
Standing, E W Lloyd, K Roberts, H Shield, B Hensley, R George,J Jones K Rowles, A Wilson,L Morris. Seated, A Wharmby, A Hitchmough,F Scott, B Cheshire, T Gillhooley, T Gibbons.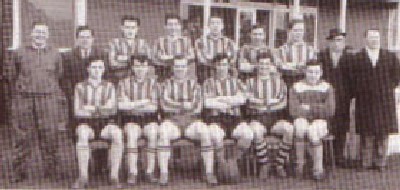 Picture Below is the 2nd team who played back in the Widnes Alliance League. Team as follows: Peter Spence 2nd Team
Standing, E W Lloyd, K Roberts, A Holroyd, R O'Callaghan, J Black, N Woodward, H Thomas, J Garnett, J Ellison, A Wilson, L Morris. Seated, P Crossley, B Healey, R Green, W Handley, K Rowles, J Crewe.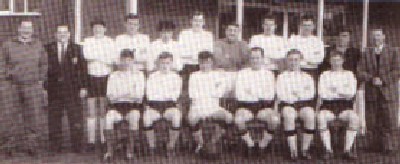 Picture below featured is the Football section trophy winners 1964/65 season.
On the left K Roberts, W Handley, T Gibbons, L Morris, E W Lloyd.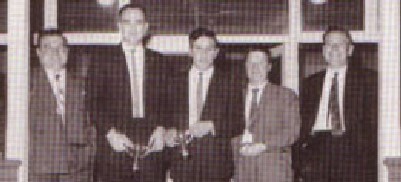 Season 1965/66
1ST Team continue to play in the Liverpool County Comp 2nd Division and the 2nd team continued in the Widnes Alliance
At present no archive news from season 1966/67 both teams competed as before.
At present no archive news from season 1967/68 both teams competed as before.
Season 1968/69
Football Section changed name to Laporte Football Club at start of September for new season. Peter Spence works had been taken over in 1967 so it was decided to change name at this time.
Season 1972/73
Laporte Football Club leave the Widnes Alliance League and enter the Warrington & District Football League. First Team are entered into the 4TH Division and the Reserves are entered into the 5TH Division.
We are Awaiting further information if anyone looking at this web site has any information or pictures can they please
contact Tony Ruane at this e-mail address
tony@ruane3@gmail.com
1995 Laportes Decide to pull out of owning sports club
How and when The new club would be established.
Early in 1995 Laportes works decided to pull out of running its club which was then known as Laportes Social Club. And to soften the blow off losing the club and all its facilities it was offered to its members to take over. Laportes would sell the ground and the old clubhouse for a nominal rent to its members. A committee was formed as to how they could operate the new club and build a new club house. With the help of new commitee and solicitors the nessasery funds were raised to build a new club house it was acheved with the help of Banks Brewery who loaned the new club £200,000, the Sports council provided £35,000 for the building of changing facilities for all sections, £50,000 was then raised by various methods to complete the building of the new club.
At the end of 1995 an AGM meeting was held by all members and it was decided to rename the club the name chosen became:
Moorfield Sports and Social Club.
Solicitors then informed the new club that it was to be registered, with the help of Graham O'Neill who was then the first team football manager he was able to register the new club officially.
While the old wooden pavillion was to be knocked down and a new club built the commitee realised that it would still to provide changing facilities and some form of bar so that it could carry on trading and raising funds for the new club. A tempory wooden building was loaned to members by O'Conners Transport with the help of Graham O'Neill. The club members then began erecting the tempory accomodation and putting in a bar so that the new club could function while new club was to built. When the wooden hut was erected and fitted out it provided all the clubs needs allbeit on a tempory basis.

As you can see from the pictures below of the outside of the hut and further picture of the inside as it still stands today. The wooden hut was used up until 2005.
Inside view of Tempory Wooden building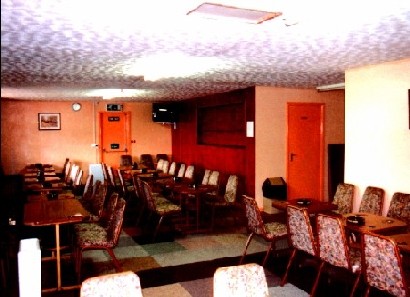 While this building was in use the new club house was then able to be built and was completed as early as possible.
1996
Pictures below shows an aerial shot of the ground before it became Moorfield Sports and Social club you can see the old tennis courts and football 5 a side area that would become the new Bowling green when the club is completed.
Pictures below here have been presented to the Moorfield Website on 30-3-07 by Brian Wafer many thanks to him picturs show the distmantling of the old wooden green hut and the building of the new club house.
We are Awaiting further information if anyone looking at this web site has any information or pictures can they please
contact Tony Ruane at this e-mail address
tonyruane3@gmail.com
HISTORY PRESENT
THE OFFICIAL OPENING OF MOORFIELD SPORTS AND SOCIAL CLUB
The new Moorfield and Sports and Social Club was officially
opened on 13-6-1998. New club Pictured below.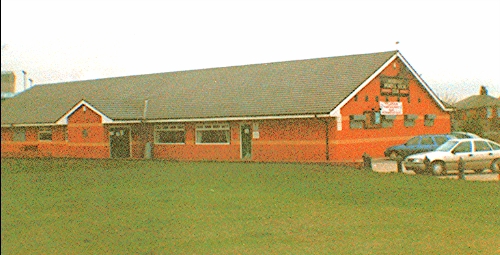 The new club Badges showing the new names.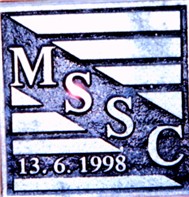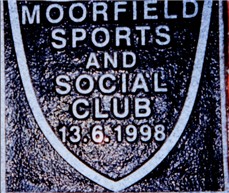 The club continues to thrive and expand its facilities.
Easter 2004.
Easter Weekend 2004 Moorfield Sports Sections came together for Charity Event
Sportsmen at Moorfield Sports & Social Club put the reputations on the line for a good cause. Cricketers and football players each took part in each others respective sports in aid of charity. But blushes were spared as each triumphed at their own game. Festivities took place over the Easter bank holiday and raised a total of £375 for the Anthony Nolan Bone Marrow Trust.
Good Friday saw a three tean round robin football tournament involving Moorfield Football, Moorfield Cricket and Everite football Club. The first Game between Moorfield Cricket and Everite proved an exciting affair with spoils being shared 2-2 each resulting in one point each.
The next match saw Everite play Moorfield football this game was also drawn 0-0 giving each team one point each. Third game saw Moorfield Football playing Moorfield Cricket and not surprisingly the football team won 3-0 to take all the points. This meant the football team from Moorfield won the tournament with four points in total ahead of Everite with two points and Cricketers third with one point.
On Easter monday Moorfield Cricket section Found themselves on familiar territory for part two of the weekends games was to be Cricket. First game was Moorfield football verses Moorfield Cricket section. cricket section scored 145 all out off their 30 alloted overs and the football section could only muster 95 off their 30 overs in reply. The highlight of the day was Ste Deans catch to dismiss fellow cricketer Neil Maher who was playing for the football team. Neil Maher knocked one right into the hands of Ste Dean to his delight and that of the rest of the cricketers. The rest of the games went Moorfield Cricketers way who won the cricket tournament.
Moorfield Sports and Social club would like to thank everyone from Moorfield cricket and Football along with Everite Football Club and all the supporters who turned out over the weekend to raise funds for such a worthy cause as the Anthony Nolan Bone Marrow Trust.
Picture Below is players who took part in the games over the easter holiday

Monday 3rd of May 2004 Jubilee Cup Final
Moorfield Win Cup Final Result was Moorfield 2 - 0 Halebank
Scorer on the day two great headers from Mark Cowen
Captain Ste Smith recieved cup.
Picture below of the Moorfield 1st Team and trophies.
Team Above Standing Left To Right
M Wilson, M Cowen, N Maher,M Pimlett, C Hansen, G Abbott, J Kennedy, A Howard, Managers T Kennedy, D Ford
Kneeling Down Left To Right Eliot Eyo, T McDonell, Captain Ste Smith,L Brophy, K Dowling, S Ellis.
Below is a picture of Squad before Game
With Managers Dave Ford Assistant T Kennedy and assisting on the day Ste Macfadyen.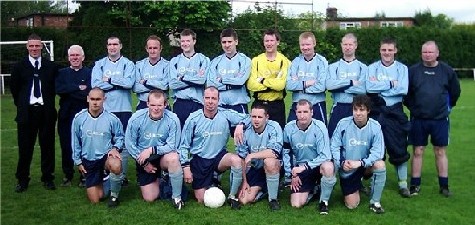 Moorfield AFC Season 2003 - 2004
Winners of The Derek Roylance Widnes Cup, Widnes Cup Shield, Alan Corn 7 a-side Cup,
and The Jubilee Cup, season 2003/4.
Promotion to the Warrington premier Division after finisning second in the first division. (Back row Left to Right) T.Kennedy (Assistant Manager), M.Cowen, N.Maher, J.Kennedy, M.Pimlett, M.Wilson, D.Ford (Manager), R.Froggat (Secretary).
(Front row) E.Eyo, A. Howard, A. McDonnell, S.Smith (Captain), J.Masters, S.Ellis.

Missing from picture D. Moore, C. Hansen, L. Brophy, K, Dowling, G. Abbott, P. Angel.
After a long and hard season Moorfield AFC can sit back and bask in the glory of a highly successful campaign in the Warrington & District League. Manager David Ford praised the team's efforts saying, "Our season started in July winning the inaugural Derek Roylance Widnes Cup and The Alan Corn Memorial 7 a-side Trophy.
This pre-season continued into the league culminating with promotion to the Premier Division and winning The Jubilee Cup, for the first time in the club's history". He would like to thank his assistant Tommy Kennedy, The Committee and all the players at the club for their support and efforts.
A big thanks goes to the club sponsors JET Engineering and SMK for their continued support. He added "The Presentation Night on Saturday 5th June should be a fantastic night, and I look forward to seeing everyone enjoying themselves, before the hard work of pre-season training starts later in June".
Moorfield AFC Season 2004 - 2005
1st Team are now back in the Warrington & District League premier Division. This season all teams have been requested to undertake ground improvements that include fencing off the pitch boundaries. Moorfield football club sports development officer Dave Ford has been attending meetings with Halton Borough council to see if we can obtain funding for perimeter fencing and also for training courses for all teams playing at Moorfield Sports club. This will we hope lead to us gaining F A Chartership for our club.
At this present time we have been awarded from Halton Borough Sports foundation £460.00 towards Training courses and £6168.75 towards ground improvements.
Development Officer Dave Ford has been in contact with various companies to see about quoting for the Perimeter Fencing.
At the start of September We awarded the work to Richard Dunne Fencing who gave the best estimate for the work to be done. Perimeter fencing was completed at the end of September.
Moorfield Sports & Social Club Football section Awarded F A Chartership in September 2004
Below is the document that we where awarded this also means that we can show the F A sign on Moorfield AFC letterheads. This has now been implemented.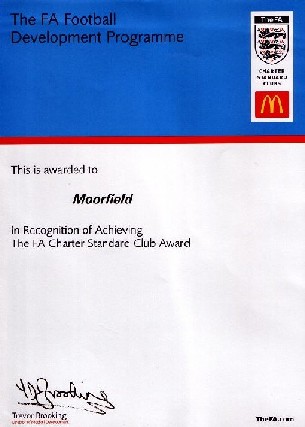 5-2-05 Moorfield Sports & Social club football section have now been offically awarded the F.A Charter Standard.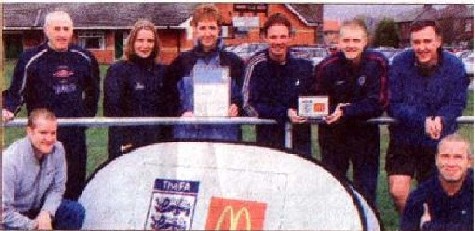 Pictured above recieving the FA Charter Standard on Saturday are
Kneeling on the Left G Wood, Derek Fielding, Jane Rhodes of Halton Borough Council, Jean Fielding, Dave Ford, Chris Smith of Liverpool County FA, Phil Granvill and Shaun Tienan.
Saturday 5-2-05 The club was pleased to Have Chris Smith from the Liverpool County FA at the Moorfield ground to help them celebrate their achievement. Moorfield are presently running three open age teams in the Warrington & District League as well as two teams, Moorfield under 11's and Moorfield Celtic under 12's in the Halton & District League.
Dave Ford Moorfield 1st Team manager and club Sports Development Officer would like to especially thank Jean Fielding of Moorfield Celtic for her efforts in achieving the Charter Standard for the club, and also Halton Borough Council for their continued support for grass roots football in the town.
June 2005
Dave Ford hands over the first team Managers job to Ste Smith
Dave is continuing in his Sports Development Role for the Club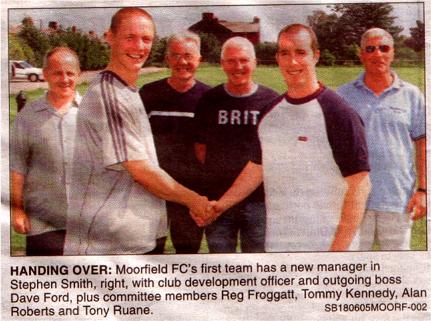 Pictured above are from Left to Right
Tony Ruane, Dave Ford, Alan Roberts, T Kennedy, S Smith and Reg Froggatt.
Moorfield Football Club's new first team manager needs no introduction.
Stephen Smith who has spent the last 12 years at moorfield club as player and then First team captain. Stephen was first team captain in the 2003-04 Jubilee Trophy Final winning side. This is Stephen's first role in team management and he is relishing his new role within the club. He said it was just to good an opportunity to miss as these roles do not come along to often and and he cannot wait for the season to start.Stephen takes over from Dave Ford who has held the post for the last six years. Dave has not only been first team manager but has been the clubs link as Sports Development Officer with Halton Borough Council and as been wholly responsible in the club having been awarded with the F A Chartership last year. Dave had said before last season had started that he would be standing down this year and the committee thanked Dave for all the hard work he has put in over the last six years. However Dave has not been lost to the club as he is staying on as Sports Development Officer which over the last two years has become a very demanding role at which Dave is fully Committed to on behalf of the club.
December 2006 Moorfield new changing rooms nearing completion.
Pictures below taken by Rob Baxter.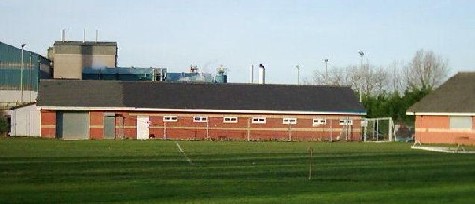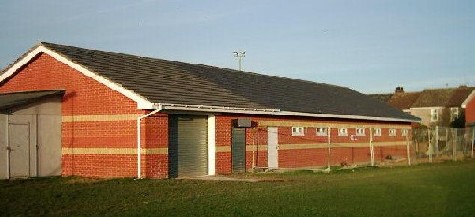 August 26 2006
Moorfield are beaten in the Widnes Cup Final 2 - 0 by Cronton Villa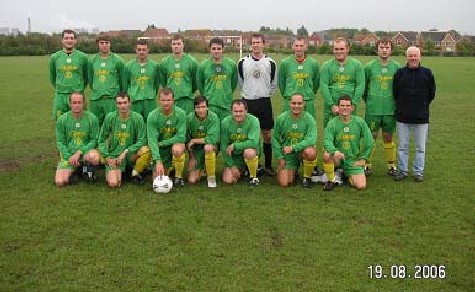 January 2007
Moorfield AFC are presented with a shirt from the first season at the present ground by Jack Jones who played in the first season. The shirt has now been framed and is hanging up in the club as a tribute to Jack and all the players from those early days
Pictures below taken by Tony Ruane.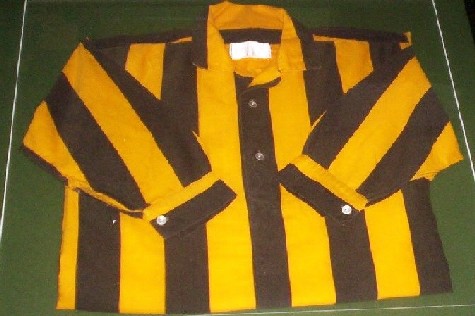 July 2007

Moorfield AFC are awarded a lottery grant by the Awards for All in recognition of the work in the community in providing children and adults to take part in its football activities the award from the national lottery fund is to provide funds for training equipment football kits coaching courses for team leaders and to encourach more people to join in with activites with in the club and to promote Moorfield AFC who celebrate there 50 year at the present ground.
More news will appear here of activites that will be takeing place thoughout next season to celebrate the 50 years.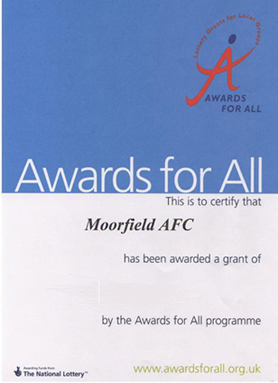 August 18th 2007

Moorfield have won the Widnes cup for the second time in five years since it was reintroduced Moorfield AFC beat Halebank 1 - 0 in the final of thw Widnes cup. There have been a few changes at Moorfield AFC as we enter into our 50th year as a club. Long serving Tommy Kennedy is stepping down from management but will still be a major presence as he continues his role as Chairman. I would like to thank Tommy for an outstanding contribution over the years. It has been a busy few months behind the scenes, which has culminated in a robust management team being formed. We welcome back Dave Ford who will run the 1st team with Ste Smith. Jay Rogers is getting his first taste of management as assistant for them and Ste MacFadyen with Chris Hansen take over the reigns of the reserves. Stu Chance will be in charge of the 3rd team with Geoff Heaton assisting. It will be a challenging season ahead, with the first team hoping to further consolidate their Premier League status and go one better after losing in both the Widnes and Drinkwater Cup Finals last campaign. Both the reserves and 3rd team have been promoted. As a club we look forward to the Widnes Cup. It is a chance to renew old rivalries and an opportunity to have a very competitive pre-season. The Widnes forum are doing a tremendous job, and credit must also go out to all the local teams who are performing so well in the Warrington League, with a third of the Premier Division being made up of Widnes Teams
Team below from Semi-final 11-8-07 Picture of final will appear here.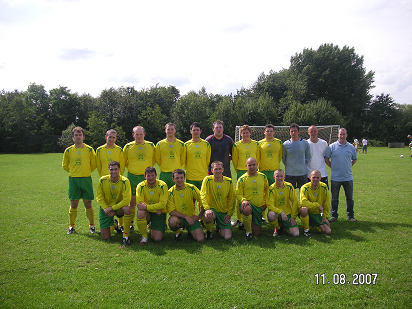 August 27-8-08

Moorfield AFC to celebrate the fifty years at the present ground have had a new kit made in a style similar to the kit worn in the first season at the present ground. It was suggested by all players to wear a kit to commemorate the event.
Pictured below is new shirt.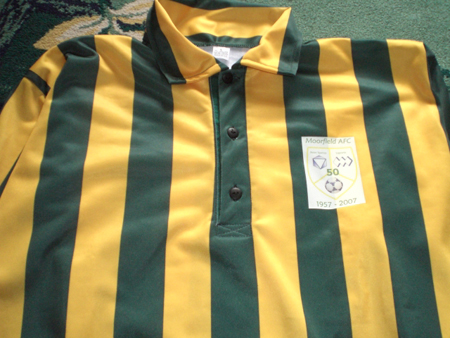 November 2007 Moorfield
Are awarded a funding pack from the Barclays spaces for sports scheme.
Pictured below are some players representing all Moorfield teams reciving the Barclays award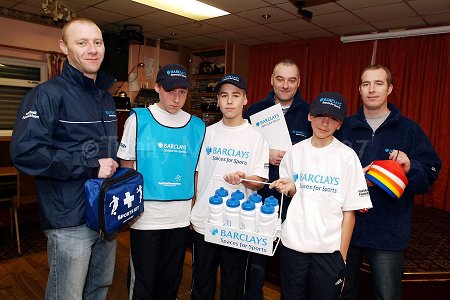 Anyone looking at this web page and has any old or new photos or any information regarding our club. Then please contact Tony Ruane at tonyruane3@gmail.com and I will add any photos and information here.